Social Media - if the Queen can do it, so can you!
In June we celebrated the Queen's 89th birthday in New Zealand (1 June) with a public holiday.

Even though the Queen is 89 years old, she has embraced Social Media, posting her first Tweet in October last year.

In 1953, at her own request, she became the first British monarch to have her coronation broadcast live on television.

That act prompted a boom in TV sales, with an extra half a million sets sold in the weeks running up to the coronation, according to the British monarchy Twitter feed.
The inaugural tweet was posted to the official British monarchy Twitter feed, which has more than 1.07 million followers.

And in case anyone had any doubts that the Queen's own hand was behind it, another tweet quickly followed vouching for its authenticity.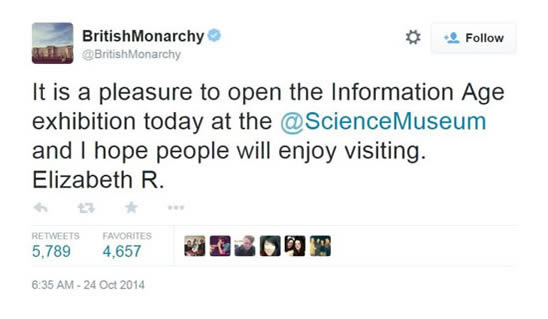 The Queen has spent more than 60 years on the throne, during which time she has taken other steps to embrace new technology, which is more than some of WWW Design's clients have done - you know who you are!

The British Monarchy also joined Facebook back in 2010 and at the time of writing this newsletter, they had 2.2 million followers - not up there with Kim Kardashian (26 million), but still very impressive! https://www.facebook.com/TheBritishMonarchy

Facebook, Twitter, Pinterest, Instagram and other social media platforms are free, so once you have your accounts set up to promote your business, all you have to do is allocate a few minutes to each platform each week to keep them updated, so what is stopping you. Even if you don't get any tangible results in the short term, it hasn't cost you anything but a little time to "jump on the bandwagon"

An example of a client's Facebook page, that WWW Design recently assisted with (but is now solely maintained by the client), is https://www.facebook.com/GraffitiSolutionsNZ.

Many of our past newsletters offer information on how to get started and make the most of what social media has to offer and here are some links which you should check out. If you need help to set up social media accounts, WWW Design can do this for you and then you can take over and "post away" to your heart's content - who knows, you may even get to enjoy it!
The marketing benefits of Pinterest to small businesses
Instagram The World's Most Powerful Selling Tool?
Shrewd Social Marketing Strategies to Enhance SEO
Twitter Guidelines For Business Success
Quora - a valuable asset to your business ...
Social Media Myths - Fact or Fiction?
Five Methods to Manage Your Online Reputation
Ways to Optimise YouTube Videos
Tips for More Valuable Facebook Marketing
---
Domain Names For Sale
We have some excellent, pre-registered domain names available now for sale - click here to view>>