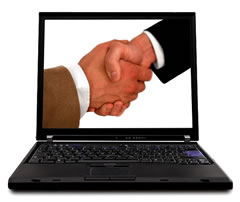 What is integrity? According to the dictionary, in short, it means "honesty".

It is important that visitors can trust and believe what your website says, so here are 10 ways to achieve this.

1. Authenticate that the information on your website is accurate.

You can do this by getting third party support for the information you present. When you give links to your source material, even if people don't go to those links, you are showing your confidence and trust in what you're giving out.

2. Show visitors that your business is real ...

In this era of scams, inaccuracies and lies, it is important to display a physical address, photos of products and/or premises and a legitimate website for your organisation – simple ways to show your integrity.

3. Do you have experts on your staff?

Be sure to give their endorsement. Visitors want to be sure that your business is a respected organisation. Don't link with sites that are not credible as this could have a negative effect on your business simply by association.

4. Confirm that your experts are honest and trustworthy.

Show who they are through using videos (linking to YouTube videos is cost-effective and simple), images or detailing qualifications. If applicable, let visitors see that the leadership and training within your organisation is solid and true. Always promote the value of your staff or connections.

5. Clearly display your contact information.

You are running a business, so potential customers/clients need to be able to easily get in contact with you via email or phone, so it should only take one step on your website to display this information.

6. Make sure your website portrays your business in a professional way.

Your website should reflect your business exactly in the way you want it portrayed. Remember you have just seconds to gain the attention of someone who is surfing the net.

7. Your website should be easy to use.

Research shows that if it is difficult for someone to manoeuvre around and see all there is to see, they will not stay long and probably will not return.

8. Update your content regularly

This is one of the most important ways to ensure the success of your website – not only do search engines give more credibility to regularly updated websites, but visitors are more likely to return if they know that the content is regularly updated with fresh new information – remember your website is like a shop front – are you going to continue visiting a shop that has nothing new to show you? If you don't know the answer to this question, now is the time to update!!

9. Use promotional advertisements/banners in moderation.

Remember you are branding your business, so try not to inundate visitors with too many promotions and advertisements. Visitors are more likely to return if they perceive your website to contain genuine and informative content.

10. Avoid mistakes, no matter how small ...

Spelling and typing errors together with broken links can seriously damage a website's credibility.

-------------------------------------------------------------------------

Implementing these ten simple, common sense suggestions, and ensuring that you are consistent with your efforts, will make your website more likely to be visited frequently, your visitors should increase and your search engine rankings should improve.


As with everything in business (and life in general), consistency is the key. Having a "burst of inspiration" for a month or two is not a recipe for success – keep at it and you will see results!