Quora could become a valuable asset to your business ...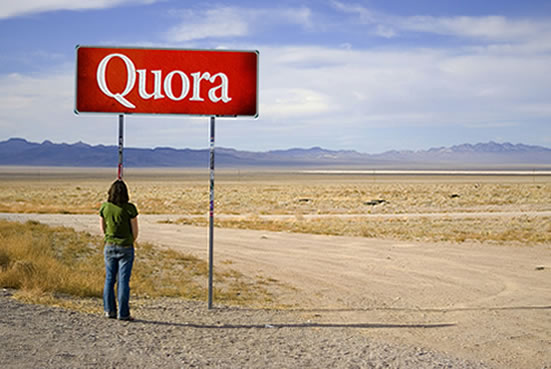 What is Quora? Quora is a question-and-answer website created, edited and organised by its community of users. The company was founded in June 2009, and the website was made available to the public on June 21, 2010
Marketing is now all about tweeting, stumbling, digging, liking and connecting. For many this may sound like twaddle, but for many employees in the marketing field, this is work, work and more work. Social media is a great and cost effective way to promote your business brand, however it can be tedious and time-consuming and it is easy to fall behind, so you may wonder why we are telling you about a new social networking site.
We believe this site is worth taking a look at ... Quora – www.quora.com is not all that new, being created in 2009 by the former CTO of Facebook, Adam D'Angelo and it now seems to finally be getting more publicity. It is different from other social media sites in that you can ask a question and then receive an answer from a reliable source as well as pulling together a lot of features that you find on other information/social networking sites:
| | |
| --- | --- |
| * | Users can vote for the answers they find most relevant or accurate and this is Quora's way of ensuring that the best answers appear at the top. |
| * | Answers to questions are linked to the person who provided the answer. |
| * | Anyone can make revisions to a question and all revisions are tracked providing clear and concise questions appearing on the site. |
| * | Related questions and their answers will also be shown when you type in a question. |
Quora is also a service you need to sign up for, and you can do this through your Facebook or Twitter account or simply by providing your name and email address.
Quora is not only a place where you can find quality information, but a place where you can follow people, specific questions or topics that interest you. Basically the site offers the best of both worlds – you can make connections and show potential customers what you know.
Here are some ways you can use Quora to help with building your business brand:
| | |
| --- | --- |
| 1. | Try out Quora by asking questions. Ensure your questions are interesting and well written so that you get good feedback. Quora is a community of professionals, so your quality questions will help to get your name recognized and help you to find people you want to follow and find people to follow you. |
| 2. | Answer questions posted on Quora – As the owner of the business or an employee, you should have answers to many questions posted on Quora. Search for questions in your field and provide answers which will help to establish your brand/business as a leader in your field. |
| 3. | While Twitter allows you for follow specific people, Quora allows you to follow anything related to your business and by posting questions and answers your business will become recognised. |
| 4. | Utilise your profile by adding links to your website/s and when you make this public it will give users easy access to your website/s for more information – the more questions and answers you post the more likely others will take a look at your website/s. |
| 5. | You can indirectly build your business by taking time to see what other experts in your field are saying and possibly gather useful tips for your own business. |
Joining Quora will mean a little more work connecting and linking, but this effort may well be another asset to your business.
---
Domain Names For Sale
We have some excellent, pre-registered domain names available now for sale - click here to view>>