Encourage visitors to add your website to their favourites ...
Being Among the Favourites
If you want your visitors to come back again and again, you've got to get them to add your website to their favourites (also known as bookmarks in some browsers). That's the menu where they can save websites that they want to use again, clicking them easily to get to them. Being added to a user's favourites is like getting a free advertisement for your website right there in their browser's menu. But how can you do it?
Make it Easy
The option to add a website to the favourites menu is quite hidden, and people don't often think about it. You'll get far more people adding you to their favorites if you offer them a quick and easy 'Bookmark This Site' link somewhere towards the top of the page. Even if they don't actually use the link, it still draws attention to the browser's favourites function and makes the user think about it, increasing the likelihood of them adding the site to their favourites sooner or later. We will put a Bookmark link on you listing for just $5 + GST. << CLICK HERE TO PROCEED >>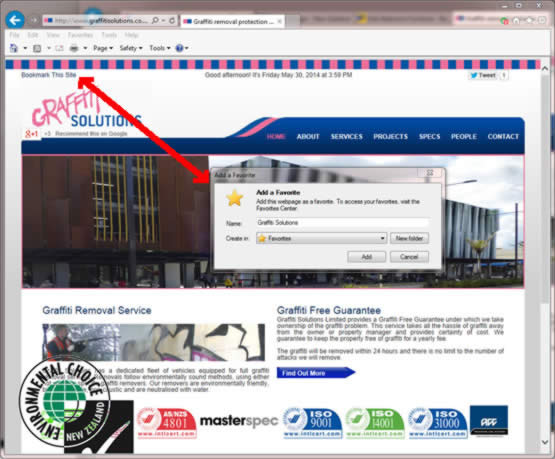 Check the Title
The Title Metatag is what people bookmarking your site directly from the Internet will see in their favourites. Try bookmarking your own website and check that your Title contains keywords that best describe your business.
Once your website has been "bookmarked" it is important that people can find it again when they want to revisit. Keep in mind though that the Title Metatag can have only up to 60 characters including spaces.

Guarantee Updates
If you want people to add your site to their favourites then you need to give them a reason to come back. The best way to do this is to keep your website up to date.

Even Better – Make Your Website Your Visitors' Homepage
If you want to go even further than just getting people to add your website to their favourites then you should consider trying to get people to make your website their homepage. We are talking about the website that loads automatically when they first open their web browser and that opens each time they open a new browser window. If you can get your website as someone's homepage even for a relatively short length of time then they are likely to see your website dozens of times in a day.

Boost Your Traffic
Traffic means visitors, and if you really want to get a lot of traffic to your website it is vital that you update your website regularly. Visitors will return if your site contains new and interesting information.
---
A great way to improve your link popularity which is directly related to your search engine ranking, is to take advantage of our FREE classified advertisement offer. We have "classifieds" on our four town websites SEE BELOW >>>> They receive an enormous amount of visitors and are extremely well ranked in the top search engines - if you're not there you're missing out !! All you have to do is forward us 25 words about your business - a breeze surely !! Your classified advertisement will be linked to your website and can also have an email link on it if requested.