Marketing Your Business on a Budget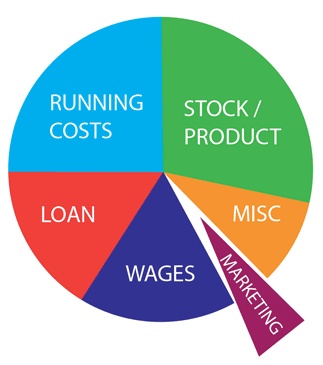 There are many ways that we can optimise websites in order to maintain a high search engine ranking, but one which is often undervalued is sitemaps. As the name suggests, sitemaps are simply a map of your website – one single page that shows the structure of your site, it's directories and pages and the links between them. Sitemaps can help to make navigating your website easier and having an updated sitemap is beneficial for your visitors and for search engines. An up to date sitemap is a way of communicating the content of your website with search engines.

All of us in business know that a web presence is a vital investment, but online marketing can be dicey and costly, especially for small businesses with limited advertising budgets.

The good news is that there are plenty of online marketing strategies that are cheaper than you may realise and businesses are succeeding using economical strategies.

Marketing is also much less difficult in this digital age as there are plenty of tools to measure and focus your marketing efforts, making it easy to obtain valuable information and quickly switch or accelerate campaigns.

If you are prepared to be proactive and get involved yourself, you can marked your business successfully online without needing a large advertising budget.

Begin Small
There are plenty of tools on the Internet that are free or less expensive than the big names – and they can help you make the most of your budget.
Create profiles.
Almost every social media site is free, and these are great tools to help you market your business and generate a following. Create company profiles on multiple social sites as well as professional business sites.


Look for free trials.
A lot of marketing tools will offer free trials, which can lead to profit before you spend a cent!
Advertise on specific sites.
If your budget won't allow you to have a large search engine marketing campaign, try running ad campaigns on specific sites. An example is Facebook advertising which is less expensive than a lot of other marketing campaigns, and it allows you to target specific locations, age groups, interests and more.
Socialise
When it comes to your website, one of the main ways to increase traffic economically is to communicate with other blogs and websites.
Comment on blogs.
If you make detailed,intuitive comments on a blog, people that read your comments will not only want to keep reading them, but they might want to learn more about you by checking out your website.


Give advice.
While message boards sound a bit outdated, there are still millions of them on the Internet, as well as other ways to interact with members of your industry. If you can give sound advice, or answer questions about your products and services, you can gain new customers and drive traffic to your website.


Use video.
Videos now appear in Google search results, and they also appeal to the many users who are attracted to multimedia. Leverage your YouTube account in creative ways to show the benefits of your products or services. This is an advertising tactic that could gain you more sales! To add interest to your website, have WWW Design embed your YouTube videos into your website.
Become an Writer
Content is one of the most important aspects of online marketing now, and remember that it won't cost you anything but time to write. Internet users are always looking for information, and if you can provide it, you'll be more likely to gain customers and traffic.
Write guest posts.
Most blogs are open to the idea of guest writers, and if you can give them fresh content to post, it'll help both of you. Being published on other sites will not only improve your traffic and branding, but it will help your search engine optimisation because of back links.


Start your own blog.
All businesses can profit from a blog, because content is what drives traffic and improves SEO efforts. Try not to sell your company in every post, but instead give valuable information to your readers. You can create a community of loyal followers, which you can boost by frequently responding back to their comments!


Give thorough content away for free.
We've all seen "beginner's guides and the reason these are so successful is because they are applicable to everyone. If you can create guides that help other readers, you will get links, traffic and respect – three indispensable aspects of any marketing campaign.
Show Your Customers That You Care
Turning interested users into customers doesn't have to be expensive, either. Attracting users is an important part of Internet marketing, and if you're creative, you can use your website to do this.
Do giveaways and contests.
All users want to feel part of a community, so if you can engage them, they'll visit your site more frequently – and be more likely to become a customer and refer you to friends. Even if they're small, contests and giveaways related to your business can help users remain interested in your website and your business.


Ask for testimonials.
If you are making your customers happy, you should have no problem finding individuals to star in video testimonials or provide written referrals. This can be one of the most effective marketing strategies, we all naturally want to use a business or service if we see our friends excited about it.
Small local businesses with a tight advertising budgets shouldn't be intimidated by companies paying a fortune for online marketing. The Internet provides infinite ways to promote your business effectively and economically.

Keep yourself informed with the online marketing industry, since it's always changing. If you remain knowledgeable, you can use the Internet to create viral content, communicate with blogs, websites and companies in your industry, and build long-lasting relationships with your customers.

These tactics don't have to cost the earth, and can be worth a lot to the overall success of your business!
---
Domain Names For Sale
We have some excellent, pre-registered domain names available now for sale - click here to view>>