How to get your customers talking about your brand
Tweet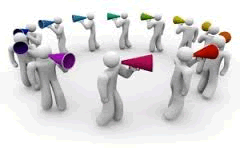 Customers today are more sophisticated than ever. They know what they want and don't want and in addition, marketers are realising that maintaining positive relationships with their customers goes way beyond conventional customer service.
Marketing is now all about engagement, an interaction that's both meaningful and individual. Consumers want to feel good about being your customer, so connecting with them and making them feel as though you know them personally (and not as just a number) is vital to earning their loyalty. In the end, various emotions form their attitude towards your company and ultimately influence their buying behaviour.

Successful brand engagement taps into individual experiences.

At the heart of emotional branding is the personal connection people feel with the brands that add value to their lives. Examples of this are all around us e.g. supermarket chains providing healthy, cost effective recipes to sell the required ingredients - clothing retailers offering wardrobe advice from top designers - shoe stores pairing latest clothing fashions with their shoes to illustrate what looks great together.

Successfully engaging your customers through unique, relatable website content is crucial for building customer relationships.

So, how can you encourage customers to promote your brand?

It's always a help to have a great product or service that does something amazing for the customer.

Another approach is to take your social media to the next level. Social media platforms like Instagram and Twitter are no longer considered trends or a phenomenon; but rather now it is acknowledged that they are part of our everyday lives. These platforms offer a major opportunity to not only engage your audience but also to build and maintain a community.

Understand that only posting status updates and photos on social media is not enough. To keep your audience connected, you need to provide valuable, useful, sometimes amusing content, and create a shared experience that keeps them interacting.

Though it may be tempting to treat social media like your own personal stage from which you can boast about your brand, a simple video can tell your story in an infinitely better and more concise manner. Facebook users are twice as likely to "like" a video than a text post, and videos are shared 12 times more than text and links, according to a recent HubSpot study.

Involve and engage customers by launching a video contest. Ask customers to create their own videos from a theme you define, related to your brand/product/service and get them to vote for their favourite videos. Doing so can help to encourage and motivate customers to create and share videos associated with your brand and this will strengthen awareness.
The Blackbox promotions in New Zealand are a good example of this, where they encourage recipients of the boxes to post on Facebook images and videos showing interaction with the products that they received in their boxes.

Here are a few other customer engagement strategies to consider when promoting your brand:
Communicate on a regular basis. Reach out and always respond to your customers (even if they are complaining on Facebook) to make sure they always get the help and support they need. Thank those with nice comments to make and solve any problems to those who complain.
Stay relevant. Become a respected leader in your field and keep up with the latest industry news and report it before any of your competitors do. This will encourage social "likes", shares and links to your website.
Engage with images. Make sure your website is user-friendly and that your blog is eye-catching, even if your visitors' attention is divided between their laptop, smartphone, or tablet. Content can range from custom infographics to stunning photos or thought-provoking videos.
Offer curated video content. Curated content can be defined as "the art and science of finding and sharing quality content on a specific topic." Curated content can help you build an audience. The larger your audience, the more likely your content will be shared, which in turn will spread the word about your brand.
Don't be afraid to ask for help. Speak directly to your followers in an attempt to gain even more of their attention. Ask them questions about themselves and how your product fits with their lifestyle. Hold contests that involve getting them talking about your brand/product/service. Ask your followers to contribute a creative caption for an image or fill-in-the-blanks.
If applicable, encourage internal team building. Don't forget that creating unique content can engage your employees, too, an important point that is often overlooked. By creating brand experts from within your business, you are showing customers a completely different product perspective. It also shows staff that they are also valued by the company too.
***
Whatever customer engagement strategies you decide to use, it is vital to remain consistent. Think about the brand messaging you employ as well as your customers' overall start to finish experience – and this can apply to any and all businesses. If you give them a consistent (and meaningful) experience, you will eventually be rewarded with their trust, dedication, and on-going loyalty.
In 2014, the impact of marketing grew in new and exhilarating ways. The progress of technology made content more targeted and engaging, and it helped marketers discover worthwhile insights about their target customers; it also made it easier than ever to determine ROI (return on investment). Now with 25% of 2015 history, it looks like that progress is gaining momentum.
For anyone trying to market their business today, it's easy to feel overwhelmed by new progress in the field. Suddenly, data must drive all marketing decisions, strategies must be customized to translate across a multitude of mobile devices and bosses are demanding to see measurable and actionable results.

You can feel as though you're drowning in new opportunities, responsibilities and variables.

If you want to stay ahead of the game, here are some to help you succeed in 2015.

1. Prioritise data

Marketing is now a science, so you need to treat it as such. We are now able to collect date which holds valuable information for your company's operations, including details on how campaigns are performing, whom you are reaching and how they react to your brand, and what you're doing especially well (or not so well).

Take advantage of all that information to reconfigure your strategy if it seems misaligned with the data, and track your results; doing so not only allows you deeper understanding into how your product or business is faring but also keeps you (and your team if applicable) accountable by helping you determine the comparative ROI of your efforts.

2. Combine your strategies

Do you find yourself juggling a digital strategy, a traditional marketing strategy, and even a mobile strategy—all with different goals and outcomes?

If so, make it a priority to amalgamate those different efforts into one cohesive marketing strategy and streamline your operations. Revisit your 2015 marketing plan and think about how all of those different segments feed into your overall goals, and revise planned elements and budgets to mirror your objectives.

The goal is for all tactics to come together around a single strategy and to seamlessly work together.

3. Embrace both amateur and professional content

Do you know what people are saying about your company? How is your marketing received among your target market?

Recognise that people outside of your marketing team are talking about and creating content around your brand. Whether through blog/social media posts, tweets, or even conversations with family and friends, content about your brand is being circulated.

Instead of trying to quash this amateur content or drown it out with professional branded content, embrace it. Learn from it, and use it to improve the authenticity of your communication with your customers and potential customers.

4. Track, report, and actually deliver on your goals and objectives

It is vital to track, report, and deliver on your marketing goals and objectives. Even if you don't have someone higher up that you are reporting to, you need to be able to see, for your own self satisfaction, that your marketing efforts are directly resulting in sales.

It is important that time spent on marketing delivers results that make a positive financial impact on your company, for your superiors to see or even for your own satisfaction.

5. Communicate with your fellow workers

What are your company's objectives for 2015, and where does marketing fit into those objectives?

You should always communicate what you're doing to the rest of the company and explain how marketing aligns with company strategy. Then, take it a step further and, if applicable, explain what others can do to help out and offer an open door for advice and suggestions.

Having an outside perspective helps you to refresh and realign your marketing objectives and it helps others in the business understand what it is you do and why it's important to the company as a whole. Furthermore, if you are part of a large team, showing that you are holding your marketing efforts accountable to those company goals, fosters appreciation for what you do and encourages acceptance from the rest of the company.

* * *
Every year sees tremendous challenges and innovation for those responsible for marketing. It is important to learn lessons from the past and commit to keeping up with changes as they occur in the future.