The marketing benefits of Pinterest to small businesses ...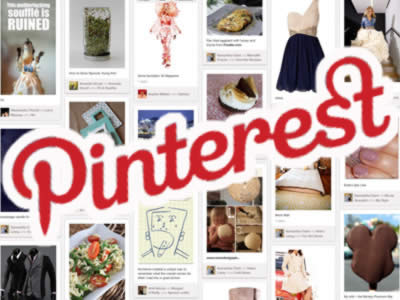 I am fairly new to Pinterest, but have to say that I find this social media platform very addictive. For me so far it's more personal than business, but I can see how it could work extremely well for almost any person or business with a product to sell, especially if it is available for purchase online.

Pinterest is a virtual pin board incorporated within a social network, think of it as digital scrapbooking. People are able to "pin" or "like" images of items that they have interest in. Pinterest can be described as the social platform that allows consumers to promote products and services for free. They can organise their pins into categories that are of interest to them, a few popular categories include:
Do it Yourself - Crafts - Wedding Planning - Cooking / Recipes - Fashion - Home Interiors - Landscape Design - Jewellery and the list goes on.
Recently, companies have started to explore the benefits of Pinterest. Not surprising as recently Pinterest reported having over 10 million unique visitors. In the past six months alone Pinterest has grown over 4000%. There is marketing potential with Pinterest, but it's really all in how you approach it. Just like any social networking, if you are only joining to promote rather than be beneficial to users you will be destined to fail.
Small businesses have started to see the value in Pinterest. Take for example graphic artists, photographers, interior designers, garden designers and fashion designers, they are able to create storyboards showcasing their work. They have the freedom to display their work using their creativity, personal style and personality by creating fabulous portfolios that can be seen and shared by other Pinterest users. This allows potential customers to check out their work, prior to contacting them.

It can also be used as a tool for your own market research, for example,what colours people are drawn to and what products are being repinned. This information can create inspiration for additional product development. While there are no hardcore metrics within Pinterest, a small business owner can keep track of interests by seeing how many of their "pins" are "repinned" by other users. This can help in determining interests, marketability and popularity.

The secret behind Pinterest working for your business is getting content to be shared quickly and frequently. This will help in moving a consumer from browser to purchaser.

According to a recent report done by Hubspot:
Pinterest is driving more traffic to the Real Simple website than Facebook (Real simple is a magazine with supporting website.
An inexpensive eyeglass retailer Warbly Parker is reporting that 11% of its social traffic is coming from Pinterest. Blogger Kate Bryan has increased her subscribers to 14,000 in five months from Pinterest.
There is certainly value, but let's look at best practices for the small business:
Define your boards. Organise your pin boards in categories that define the products and services that you offer.

Be creative and brainstorm. Think outside of the box and consider what topics convey the personality of your brand. Create boards that engage visitors, they don't always have to promote a specific product, but educate consumers more about your brand.

Find and know your audience. Is your brand already being pinned? Research by searching on the following: http://pinterest.com/source/yourdomain.co.nz. That will enable you to see if people are already pinning items from your website. This will allow you to track back and find visitors that are already interested in what you have to offer.

For example take a look at the following items pinned for these popular brands:


TradeMe - Kings Plant Barn - Chelsea Winter - Soul Bar - Kathryn Wilson Shoes - Bunnings

... and even some of WWW Design's clients are already being "pinned" - Secret Treasures - Cotswold Cottage - Edwards Garden Greenhouse - Greenheart Jewellery - GSL Glassguard - Marvin Farms - Piako Ostriches.

Interact and engage. As with any social media network, once you find users that are pinning and promoting items of yours interact and engage with them. You can do this by "repinning", "liking" or "mentioning." These are great ways to foster conversations and interaction.

The data from research is pretty clear, Pinterest is rapidly growing. It has increased in popularity and is a great source for referral traffic. Is it right for your business? The best way to know that is to consider the above, evaluate whether Pinterest members represent your client type, and make a list of ways that your business can utilise Pinterest. You will need original content and images that can be shared preferably via your own website, blog, or multimedia sites.