Backlinks are vital to high rankings on Google!
Four types of backlinks that you can get for your website ...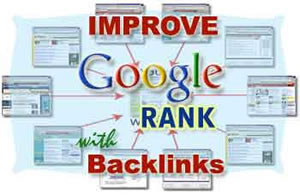 This is a subject we have discussed in many past newsletters, but time to mention it again as backlinks are still the most important factor in gaining high rankings for your website on Google. If you want to see your website on Google's first result page, then you must make sure that your site has as many good backlinks as possible.
There are 4 different types of text links that can appear on a webpage. You can use all of them to create a robust backlink profile that will improve the position of your website on Google:
1. The informational backlink
Informational backlinks lead to pages that offer more information related to the words that are linked in the text.
For example, you could write about comprehending website advertising. The linked text goes to a page that contains information on this subject.
How to get informational backlinks to your website:
Search for "keyword +resources" and similar phrases to find websites that deal with the topic of your website and then suggest the linkable content of your site as a resource.
2. The definitional backlink
Definitional backlinks provide an extended definition of the linked words.
How to get definitional backlinks to your website:
Create a detailed glossary that explains the terminology of your business and make these pages easy to find. People who write about your business will link to your glossary to define the terms.
3. The referential backlink
Referential backlinks are used for source citation: A list of the top 100 domains with the most unique backlinks in New Zealand can be found here.
How to get referential backlinks:
Create linkable content on your web pages. This could be infographics, statistics, etc.
Search for blogs that are related to your business and inform them about your linkable resources.
4. The promotional backlink
Promotional links are backlinks that go to a landing page or "lead capture page". It is usually a single webpage that appears in response to a search engine result or an online advertisement. The landing page usually displays direct sales copy that is a logical extension of the advertisement, search result or link. Landing pages are often linked from social media or email campaigns. The general goal of a landing page is to convert site visitors into sales leads and landing pages can be used to analyse activity generated by the linked URL to determine the success of an advertisement.
How to get promotional backlinks:
Search for sites that are related to your site or compliment your site.
Barter with other websites. If they link to your site, you could link to their site. Offer other incentives to link to your site (eg. free product samples, etc.).
Find related blogs and ask the blogger to review your site.
The backlinks of your website determine the position of your webpages on Google. If you want to get a detailed overview of the backlinks of your own website (and the backlinks of your competitors), click here for a free backlink checker.
Fact: Good backlinks are crucial if you want to get high search engine rankings. If your website doesn't have the right backlinks then it will be very difficult to get high rankings.
---
Domain Names For Sale
We have some excellent, pre-registered domain names available now for sale - click here to view>>