Ten Biggest Internet Marketing Myths Uncovered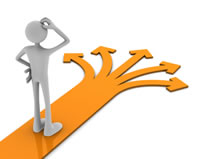 1. You Don't Need Any Money to Do Business on the Internet
You wouldn't expect to advertise on TV, radio, in newspapers, magazines or any other media for free and yet, incredibly some people think they can simply upload a website to the Internet, sit back and rake in the profits.
Although there are plenty of free advertising opportunities available on the Internet, the fact remains, you still need money to effectively do business online and it is important to keep investing in your website in order to profit from it.
2. Anyone Can Succeed at Internet Marketing
Not true. Don't try and do this yourself – spend your time doing what you're good at and talk to us about ways to market your website.
3. You Can Get Rich Quick on the Internet
We've all heard amazing stories about individuals who made a lot of money very quickly online. Well those individuals are the exception rather than the rule. Failure is more common than success.
Contrary to popular belief, the Internet is not some kind of magic bullet. Besides, it's not the medium that makes people's businesses successful, it's the individuals who own the businesses and their employees. Those who succeed at the highest level online or offline are generally talented, hard working, organised, focused and determined – same as it has always been!
4. People Don't Read Long Copy on the Internet
If people don't read long copy on the Internet, who on earth is reading all those e-books out there in the marketplace? Research has shown that long copy generally outperforms short copy - provided the copy is convincing, well-written and interesting. In addition to reading e-books, people regularly read long newspaper and magazine articles online.
FACT: People WILL read long copy IF the subject matter is interesting to them.
5. All Traffic is Good Traffic
This myth is about as ludicrous as the tooth fairy. Here are the facts: If your traffic is originating from traffic exchanges or guaranteed traffic programmes, it is simply worthless garbage traffic.
If you are advertising on websites, or in publications that have zero relevance to your site, you may as well flush your money down the toilet. If you are exchanging links with websites that have absolutely nothing in common with your site, your efforts are going to be pointless because that traffic is not going to convert to sales/business. All traffic is not created equal. Quality and relevance does matter!
6. Email Marketing is Dead
With the advent of mega-popular social media sites like Twitter, Facebook and LinkedIn, doomsters have all but declared email marketing dead and buried. Don't take notice of untrue statements - according to a US study by Nielsen, consumers are spending more and more of their Internet time on their mobile devices. In fact, email activity on mobile devices has increased from 37.4% to 41.6% of U.S. mobile Internet time, so there is no reason to think that the situation is any different for us "downunder" so there can only be one conclusion... email marketing is not dead, it has gone mobile!
7. Article Marketing Isn't as Effective as It Used to Be
What twaddle! While it's true, there are many more people involved in article marketing these days, it's also true, there are many more bad or poorly written articles saturating the Internet. This has the unintended and advantageous consequence of making well-written, quality articles stand out in the crowd.
8. You Need to Be on the First Page of Google to Be Successful
Not true. Yes, Google is definitely the most popular search engine, but Google only has ten spots available on the first page. So, not only is it unrealistic, it is impossible for everyone to achieve first page status.
It's also not advisable to put all your eggs in one basket – we've all seen what can happen when Google has one of its many algorithm changes - first page today then nowhere to be found tomorrow. That's why it's important to have a diverse marketing approach and utilise a variety of methods to generate traffic.

For example, blogging, newsletters, social networking, article marketing, forum marketing, online and offline advertising, guest blogging, question and answer sites, etc. Diversify.
9. Saturated Niches are No Longer Profitable
This is only true if you don't know what you're doing. Have you ever wondered why a particular niche is saturated? It's because that's where all the customers are. Contrary to popular belief, it really doesn't matter how saturated or over-crowded a niche – just make sure that your product or service is competitive – make it clear what is different and/or better than what your competitors are offering and exploit the differences consistently.
Execute your marketing strategy properly and you'll find that there are plenty of customers to go around. It's how well you position yourself within a particular niche that will determine your success or failure. It's all about setting your business apart from your competitors. Embrace a crowded niche – the Internet is big enough for everyone!
10. Put Your Website Online, Customers Will Come
If you don't tell anyone about it, absolutely nothing will happen!
Putting a website online is only the first step - you also have to advertise your website to the appropriate market. You also have to be willing to spend money on regular website updates and paid advertising to secure customers.
---
A great way to improve your link popularity which is directly related to your search engine ranking, is to take advantage of our FREE classified advertisement offer. We have "classifieds" on our four town websites
SEE BELOW >>>>
They receive an enormous amount of visitors and are extremely well ranked in the top search engines - if you're not there you're missing out !! All you have to do is forward us 25 words about your business - a breeze surely !! Your classified advertisement will be linked to your website and can also have an email link on it if requested.