www.tearoha-info.co.nz is 7 years old this month!!

There's no escaping ... the festive season is upon us!!
So it's time to add the Xmas touch to your website ...
Special offer ... for just $12 + GST we will put an animated Christmas image on your index (home) page and remove it in January.

---

---
November's Stats - 11489 Pageviews from 4964 unique visitors.
November's top directory is-
www.tearoha-info.co.nz/HolidayPark
No surprise here - regular updates certainly pay off!

Our most visited index pages, in order of popularity were: Information - Activities - Businesses - Accommodation.
---

This month we show the Usage by Country stats - Visitors from 49 countries have checked out

www.tearoha-info.co.nz

...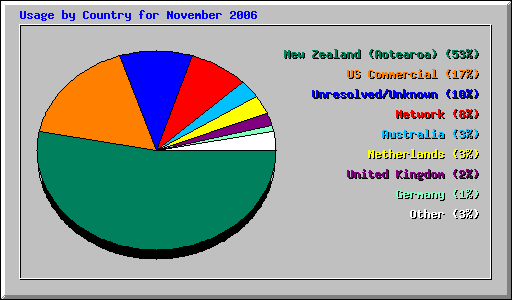 Top 30 of 49 Total Countries

#

Hits

Files

KBytes

Country

1

21830

52.70%

15630

55.64%

184336

56.30%

New Zealand (Aotearoa)

2

7246

17.49%

3764

13.40%

39970

12.21%

US Commercial

3

4009

9.68%

3018

10.74%

34557

10.55%

Unresolved/Unknown

4

3290

7.94%

2044

7.28%

22984

7.02%

Network

5

1113

2.69%

926

3.30%

10809

3.30%

Australia

6

1057

2.55%

797

2.84%

11019

3.37%

Netherlands

7

933

2.25%

697

2.48%

8626

2.63%

United Kingdom

8

229

0.55%

156

0.56%

1538

0.47%

Germany

9

191

0.46%

136

0.48%

1582

0.48%

Singapore

10

150

0.36%

83

0.30%

749

0.23%

US Educational

11

147

0.35%

118

0.42%

1137

0.35%

Japan

12

145

0.35%

128

0.46%

1972

0.60%

Belgium

13

134

0.32%

105

0.37%

913

0.28%

Switzerland

14

131

0.32%

100

0.36%

1148

0.35%

France

15

61

0.15%

48

0.17%

295

0.09%

Poland

16

55

0.13%

6

0.02%

80

0.02%

Taiwan

17

53

0.13%

31

0.11%

335

0.10%

Norway

18

52

0.13%

37

0.13%

413

0.13%

Austria

19

52

0.13%

14

0.05%

215

0.07%

United States

20

49

0.12%

37

0.13%

288

0.09%

Thailand

21

41

0.10%

34

0.12%

372

0.11%

Canada

22

39

0.09%

33

0.12%

327

0.10%

United Arab Emirates

23

36

0.09%

32

0.11%

346

0.11%

Czech Republic

24

36

0.09%

33

0.12%

304

0.09%

Mexico

25

36

0.09%

30

0.11%

388

0.12%

Malaysia

26

32

0.08%

28

0.10%

276

0.08%

Argentina

27

31

0.07%

22

0.08%

214

0.07%

Finland

28

29

0.07%

24

0.09%

293

0.09%

French Polynesia

29

28

0.07%

14

0.05%

135

0.04%

Denmark

30

26

0.06%

24

0.09%

253

0.08%

Ireland
Link Building for Top Search Engine Placement (Part 2)
(Continued from Part 1, published in Newsletter No. 83 last month)

Since you're looking for links to boost your search engine placement, the best place to start is obvious ... the search engines. A few searches should produce hundreds of potential links. There are a few tactics that work better than others.

The first

tactic provides the best links for their relevancy and for their

PageRank

(if you downloaded the Google Toolbar using the link provided last month, then you will be able to see at a glance the PageRank of any website you visit).

The second

provides the best results for getting many links quickly and easily.

Getting High Quality Links
The easiest way to get high quality links that will be well regarded by Google and the other search engines is to perform a search on the major search engines for your targeted keyword phrases. The supplied results will provide you with a list of those sites that the engine rates as the top sites for that phrase. If the engines believe this to be of value for searches looking for a particular phrase then likewise, they will view it as a valuable link to your site, which obviously deals with the same subject. You don't have to stick to your main targeted keyword phrase either. In this stage of link building you can run searches on all the keyword phrases that you are targeting and request that they link to your site. You will have to obey the guidelines provided in Part 1 of this article last month, and this will mean that there will be many sites you will have to skip, as they are competitors of yours.

Getting Many Links
Getting many links is not as difficult as getting high-quality links. Some of the same rules apply here. You will want the site to be related to yours, you will want it to be well-regarded by the search engines, and you will want it to be easy to submit to. To accomplish this, the easiest way is to once again turn to the search engines. This time however, the search will be a little bit different. Rather than typing in the keyword phrase you are targeting, you should type in the keyword phrase followed by the words "submit" or "add url". What this will give you is a listing of sites related to your keywords but also with an added bonus; a submission page. Sites that advertise their submissions are traditionally easier to submit to (i.e. they probably have a simple form to fill out rather than you having to email webmasters, etc.). You'll be surprised at how many of these sites will link to you without the need for a reciprocal link. If the form is easy then submit to it. If the form will require significant efforts to fill out (requiring information you don't have on hand for example) or if they require a reciprocal link, you will have to use the above-noted guidelines to determine if the effort is worth your time and/or a reciprocal link.

Build Quality – And They Will Link

Why would anyone link to your website without requiring a reciprocal link? What benefit do they possibly get out of this? The answers to these questions depends greatly on the website, it's design, and the content it carries. The most significant factor that will affect your ability to attain incoming links to your website is the quality of the site itself. If you have a well-designed website that contains a significant amount of useful content it will be much easier to get other webmasters to link to you as your site is a valuable resource. If, however, your site is dated and/or does not contain any useful information then you have provided nothing that the other site would need to link to, and thus, probably won't. If you have a website on Tea Tree Oil for example, and in it you provided a great deal of information on the oil, it's benefits, and it's medicinal uses, without cluttering it with a glaring sales-pitch, you stand a very good chance of attaining links from other sites as the content you have provided will be useful to their visitors. An important thing to remember is this: If you want people to link to you without having to link to them you have to provide valuable information for their visitors and present that information in an attractive format.

The easiest place to start, when building non-reciprocating incoming links, is the directories. There are thousands of directories out there focused on a variety of different fields. Find the directories related to your industry and submit your site to them. After you have submitted to all the directories related to your website it's time to move on to other sites. Now you will have to apply the rules noted above and determine how much time each link is worth and how to allot your valuable time in attaining them.

With these practices put in place, your link-building efforts, while time-consuming, will be well worth the effort. As mentioned above, however, link-building, like META tags, are not the be-all and end-all of attaining top search engine placement. Firstly you need to make sure your website is updated regularly and that it provides your visitors with valuable content for the search terms they are entering. Link building is the icing. Without the cake it amounts to nothing.

(To check out last month's newsletter online - CLICK HERE)

---

Don't forget that an advertisement in all four of our town "online classifieds" is free to all website holders. Email or fax us details now for your free advertisement - up to 25 "description" words. This is a great way of generating traffic to your website and a good way to improve your link strategy, which will lead to higher rankings in the search engines.

---

Site of the Month is

Fergusson, Green & Associates

- and they receive a free direct click through and feature image from

www.tearoha-info.co.nz

to their website.

---

Wishing you all a very Merry Christmas and we look forward to a prosperous 2007!!

(Please note that our office will be closed from 19-27 December 2006)

Leanne Taylor
:: www.wwwdesign.co.nz ::
Award Winning Website Design, Hosting & Maintenance
Phone/Fax (09) 817 9656 ~ Mobile (0274) 701990
Selling or buying a property or business?

www.nzpropertyforsale.co.nz
Special Offer - List your property for just $12.95 (STANDARD) or $24.95 (FEATURED)
CLICK HERE and insert this Promotional Code: "client11"
Normal listing price is $24.95 (STANDARD) or $49.95 (FEATURED)