March Stats 7428 Pageviews from 3963 unique visitors


February Stats 8046 Pageviews from 3933 unique visitors

How Alexa and Siri are changing SEO: AI and voice search
By Tom Desmond
The Internet changes rapidly, which means marketers and business leaders must hurry to change with it. While most Internet searches were once done on laptops and desktops, people are now using their smartphones with similar devices to conduct searches for information, local businesses, products, and services.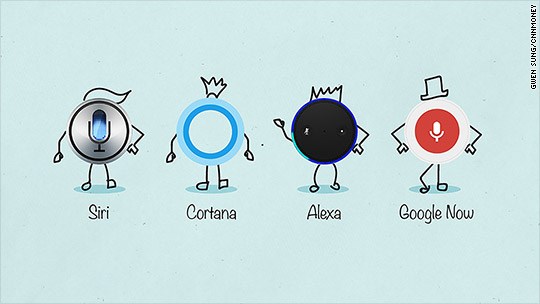 That shift was closely followed by another somewhat more distinctive shift called artificial intelligence (AI)-assisted voice search.
In the past, a smartphone user would need to type a question or phrase into Google or another search engine to get a set of results to sift through. Now, AIs like Siri and Alexa – which reside in smart speakers and on smartphones, tablets, and laptops – have changed the way users are searching for the information, products, and services they need.
You can conduct searches with nothing more than the sound of your voice. And that's rapidly changing the SEO landscape.

How voice-assisted search is changing searches
Most people have smartphones these days, and the vast majority of smartphones have voice-assisted search capabilities. According to 2017 data from the Pew Research Center, 77% of Americans now own smartphones. Among 18–29-year-olds, that same figure is 92%.
This means an enormous share of the general public is able to use voice-assisted AI search. When users of smartphones and smart speakers ask those devices for an answer to a query, that leaves the job of searching to certain AI like Siri and Alexa.
While Amazon's Alexa will not deliver the answer to a voice search query unless it has been proven accurate, Google Voice Search tech (Google Home and Android devices) reports top results from Google. It doesn't report results lower down on the search engine results page (SERP) or on subsequent results pages.
This makes being at the top of Google's results more important than ever.

The language of voice search
As voice search through AI becomes more prevalent, the language of search changes.
When typing a phrase or question into Google, a searcher might use a non-sentence, such as "Indian restaurant Houston", but when conducting a voice search through Alexa or Siri, the searcher will likely use full sentences and grammatically correct language:
"Siri, where is a good Indian restaurant in Houston?"
AI platforms try to respond to such queries in a human way, and they use the text of pages in search results to do so. Content should be optimized for conversational language with clear, grammatically correct answers to specific questions, such as who, what, where, when, and why.

Location and navigation searches
Thanks to voice search, mobile-friendly sites are becoming more important than ever. That's because many people who use voice-assisted search do so on their smartphones.
Owing to the mobile nature of smartphone use, a large portion of voice requests through Alexa, Siri, and similar AI technologies deal with navigation and location. Integration with Google Maps means an opportunity for greater traffic for businesses with a local search presence.
For instance, a person may conduct a voice search for a "dentist near me" rather than doing a typed general search for top-rated dentists.
AIs process the spoken search query while keeping the user's location in mind. This places further importance on business integration with Google Maps and creating optimized landing pages with location references.
To put it simply, voice requests lead to a SERP, where local businesses will want to rank. Claiming and maintaining Google My Business listings will become more important as voice search gains popularity.

Why FAQ pages work for voice search
Frequently asked questions (FAQ) pages appear to serve voice search purposes well. Long-tail keywords formulated as complete and conversational questions, answers to those questions, or location ("near me") searches are becoming more important because they often answer voice search queries.
While a text-based search may seek broad information, a voice search generally seeks key information that can be concisely communicated, such as hours of operation, location, and directions.
Creating landing pages with this key information in mind is likely to improve placement in SERPs for AI-assisted voice searches.

Smartphone search vs. smart speaker
Smartphones are everywhere, but smart speakers are gaining traction quickly. In fact, around 39 million Americans own one of these devices, according to a January 2018 poll from Edison Research and NPR. As smart speakers like Google Home and Amazon Echo become more popular and available, people are beginning to use them to conduct searches.
As smart speakers aren't linked to a screen or display of any kind, users only receive a verbal response to voice searches. That response is often based on a single search result – chosen by the AI assistant in an unseen selection process that takes only a few seconds.
Developers of these devices and AIs want the single result delivered to the user to answer the question or query fully and concisely. A business that is not highly ranked is not likely to be included in the limited results delivered by AI-assisted voice search.

Looking forward
Whether they're aware of it or not, AIs like Alexa and Siri are changing SEO, and it's up to marketers and businesses to adapt. From opting for conversational content to fully integrating businesses with Google Maps, there are plenty of steps to take to capture the benefits of this new type of search.
While AI-assisted voice search brings new goals and challenges to the table, the ultimate goal of SEO remains the same, whether you're involved in SEO for law firms, restaurants, doctors' office, or any other business. To convince AIs to include your content in their very limited answers to voice searches, you still need to occupy the top of the SERPs.
A page two or even top five ranking isn't what it used to be. As voice search gains traction, being number one becomes more important than ever.
This article was originally published on ClickZ.