How Much Traffic to Websites Comes From Bots?
by Ayaz Nanji | 5 January 2016

Nearly half (48.5%) of traffic to websites comes from bots, not human beings, according to a recent report from Imperva Incapsula.
The report was based on data from more than 19 billion visits to 35,000 Incapsula client websites around the world with a minimum daily traffic count of at least 10 human visitors. The data was collected over a 90-day period (July 24, 2015 - October 21, 2015) and was compared with findings from previous studies conducted by Imperva.
Some 51.5% of all the Web traffic examined came from humans, 29% came from "bad bots" (those used to automate spam campaigns, spy on competitors, launch denial of service attacks, execute vulnerability scans, etc.) and 19.5% came from "good bots" (those used by search engines, marketing research tools, SEO optimizers, uptime monitors, etc.).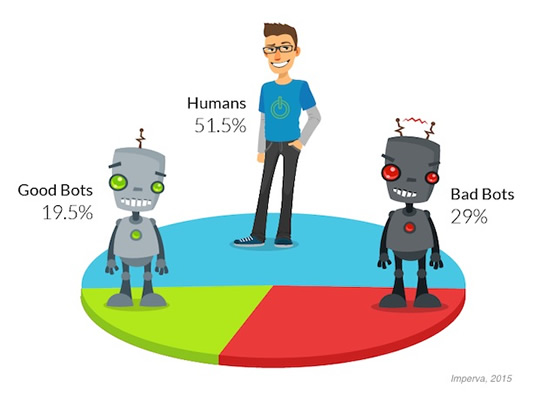 Overall, the share of human traffic to websites has risen over time, according to the report.
In a similar 2013 study conducted by Imperva, humans made up only 31.5% of all visits to sites, compared with 51.5% in 2015. This shift is mainly due to an increase in human traffic as more people use the Web and a decrease in good bot traffic.
---
*A great way to improve your link popularity which is directly related to your search engine ranking, is to take advantage of our FREE classified advertisement offer. We have "classifieds" on our four town websites SEE BELOW >>>>
They receive an enormous amount of visitors and are extremely well ranked in the top search engines - if you're not there you're missing out !! All you have to do is forward us 25 words about your business - a breeze surely!! Your classified advertisement will be linked to your website and can also have an email link on it if requested.
*This offer is only available for WWW Design clients
---
Domain Names For Sale
We have some excellent, pre-registered domain names available now for sale - <click here to view>