CHRISTMAS SPECIAL

It's December ... so now is the time to add a festive touch to your listing.

This month for just $15 + GST we will add an animated Christmas image to your listing CLICK HERE TO PROCEED >> The image will be removed in January for no extra charge *Just let us know in your email which pages you want this added or just advise us to put it on all pages of your site.
DON'T DELAY - SHOW YOUR VISITORS SOME CHRISTMAS SPIRIT!!
Visual Social Media and what you need to know ...
Fifteen years ago we were saying "if you're in business you need a website", then our newsletters would stress the importance of keeping your website up to date "your website is like a shop window ... not one wants to see the same window display every time they visit" ... it's a no-brainer really ... the more interesting your website is, more people will visit and keep returning, yet still we have clients who haven't updated their website in the last month, 3 months or in some cases it has been years ... if that's you, don't expect any results from your website until you start updating regularly, visitors know and won't return and the search engines definitely know and your rankings will be in decline along with your website.

We have written a lot about social media in the last few years, and whether you personally like it or not, if you are in business you need to have a social media presence and keep it actively updated and interesting. The big plus with social media is that it is free, so all it is going to take is a little time, so again, it is a no-brainer to embrace social media to promote your business as you have nothing to lose and everything to gain. If you haven't set up Facebook, Twitter, Instagram, Pinterest, Tumblr or other social media accounts yet for your business, we would strongly suggest that you do so without delay or you will be left behind.

All the fastest growing social media channels are visually based so it is important to include your branded logos, photography, icons etc. Make sure that you include images in your posts as research has proved that posts with images have 65% higher engagement than regular text posts.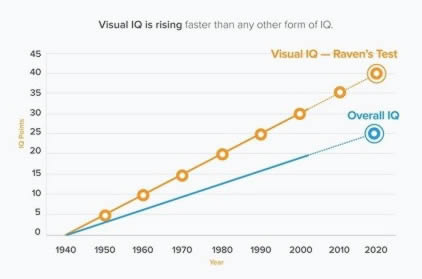 By 2018 it is estimated and 79% of internet traffic will be video and that viewers are 86% more likely to purchase a product or service after watching a promotional video of the product or service and even now posts with videos attract 3 times more inbound links that plain text posts.

The way humans think and consume information is changing ... verbal intelligence is dropping and visual intelligence is rising.

Attention spans are changing ... 8 seconds is the average amount of time before a person gets distracted ... 81% of educated people skim instead of reading online ... 20% is all that people remember from reading text without visuals.

Today's fastest growing social media channels, Tumblr, Pinterest and Instagram are visually based.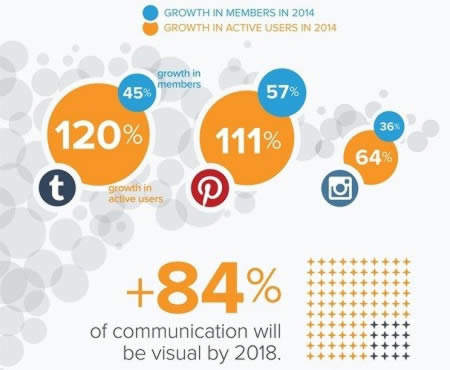 With only 8 seconds to grab peoples' attention and a 20% increase in visual touchpoints each year, it is vital that you consider your brand across all touchpoints and this includes logos, colour palette, writing style, icons, campaigns, typography, press releases, photography and product positioning.

You need to create compelling images and use them often. Posts that include images produce 650% higher engagement than regular text posts, so make them polished and professional as it takes less than 50 milliseconds to form a first impression. Edit your photos to enhance them and this may mean using filters - 60% of the top brands on Instagram use a consistent filter.

Share more videos as 79% of Internet traffic will be video content by 2018. Include video on websites as viewers are 85% more likely to purchase a product after watching a product video. Use video ads as online video revenue is growing at 110% annually and this is more than any other form of advertising.

Tumblr has had 120% growth in active users last year, with the average amount of time spent per user, each time, being 28 minutes with a 55% year over year increase in revenue per visit. 7% of Tumblr's audience is between the ages of 16 and 34. To make the most of Tumblr keep in mind that visuals are your best friend - include backlinks to improve search engine optimisation - Instagram pictures are the most popular visuals on Tumblr - make sure you use hashtags effectively.

Pinterest has had a 111% increase in active users last year, with the average amount of time spent per user, each time, being 77 minutes with 85% of pins being posted by women. To make the most of Pinterest use group boards to increase reach - drive engagement by sharing pins on other social media channels - always include keywords in your captions.

Instagram has had a 64% increase in growth of active users last year, with 70% of users logging in at least once a day with a 5.5% increase in revenue for U.S. businesses. To make the most of Instagram you should post often - avoid overly promotional content - use filters consistently on your photographs.'
---
Domain Names For Sale
We have some excellent, pre-registered domain names available now for sale - click here to view>>