Five Methods To Manage Your Online Reputation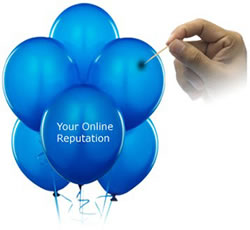 In the online world, your reputation is one of your most valuable business assets. A good reputation instils confidence and loyalty in your consumers and business partners, and can also help carry your company though bad press if/when it occurs. Much of your online success is related to your online reputation, so that reputation should be carefully protected and maintained.
Social media has the ability to take control of a brand and place it directly in the hands of the consumer. It doesn't matter how you define your brand, it all comes down to what your audience says. One negative comment on a social networking site can spread like wildfire in a matter of seconds and companies have to be prepared to deal with any related fall-out.
Here are five ways you can better manage your online reputation:
1. Set up email alerts
All you need is a Gmail account. An 'email alert' is Google's endeavour to concentrate web activity around a given keyword or search phrase into a daily email. While it doesn't show you the entire buzz about your company and related keywords, it is a good way to get a idea everyday of what is happening online.

2. Follow industry forums
Forums are like the business equivalent of blogging and social networking, and they are a ripe breeding ground for consumer complaints and grievances. Many consumers turn to forums when they have troubleshooting questions about a product. They are looking to their peers for the solution to their problem. Others look at online forums as a great way to bash (often anonymously) companies about their products, services and more. By becoming an active member of the consumer forums relative to your industry, you can keep an eye out for places where your company is mentioned. You'll be able to directly respond to consumer questions or complaints, building a stronger reputation and customer service programme at the same time.
3. Social media silence = DEATH
If you discover negative comments about your company or products, make sure you respond quickly and efficiently. Companies no longer have the luxury of waiting a week, a day, or even a few hours to issue a press release or hold a press conference to tell their side of the story. When bad news breaks you need to come up with a response and do it quickly. Social media is all about instant connections, so consumers have little patience for a company that takes their time responding to a bad situation. Don't ignore it and hope it blows over. Silence will damage your reputation. An interesting example of the damage that a combination of social media and silence can produce is detailed in the following online blog concerning the US Company 'Urban Outfitters'. The issue was not addressed immediately by Urban Outfitters which only served to add fuel to the fire.
4. Build strong relationships with industry leaders
Bloggers have a lot of power. Popular and well-respected bloggers have even more. Their blog could be reaching thousands of people everyday, so what they say has a very influential and sweeping effect. No smart blogger is going to align themselves with a company that has a bad reputation, doesn't deliver on their promises, sells low-quality products or dismisses the concerns of their customers. Having that blogger on your side means you have their unspoken endorsement. It also means that you have a strong support network should your company receive any online assaults. Having a community of industry leaders rally to your side is a great way to defend your online reputation.
5. Keep the lines of communication open
One of the easiest ways to hurt your online reputation is to shut yourself off from your consumers. If you don't allow them to communicate with you (for better AND for worse), you are removing yourself from the conversation. You should encourage your customers to write online reviews about your company. Thank the ones who write a glowing review and reach out to those who have negative comments to make. If you try to bury negative reviews or comments, you are asking for trouble. Consumers start wondering why you are so quick to hide the bad as opposed to offering solutions to problems. Your customers are your livelihood and you should be willing and able to engage with them.
Ultimately, the best way to manage your online reputation is to be proactive about it. You want to build as strong and solid a reputation as possible BEFORE you have to defend yourself. It is hard to play catch-up online, because news literally travels around the world in a matter of moments; once it's out there, you can't take it back. Old news stories can rank in the search engines long after the scandal is settled (sometimes years!), making it virtually impossible to "cover-up".
A lot of online reputation management companies have built their business on repairing a damaged reputation. It makes more sense to begin by building a reputation that is difficult to damage – think of your online reputation as the walls of a castle that are going to hold out against the enemies attack – once the a
Isn't it better to build a reputation that is hard to damage? Think of your online reputation like the walls of a ancient castle. You want to be sure those walls will hold out against a enemy attack long before the enemies show up. Once the onslaught of on your online reputation begins, you won't have time to build higher walls.