Growing Your Internet Footprint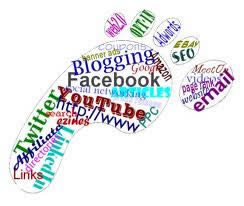 You have the product, you have the website, and you have everything you need for your business to function. So what now? Unless you are very lucky, chances are people aren't going to just appear on your website, credit cards in hand, ready to spend money. It's going to require marketing to get people to notice you and take the next step and visit your site.
A common myth is that marketing is expensive. You need endless dollars and a department full of geniuses to pull off a successful marketing campaign that brings home the bacon. In this age of lightning fast communication and massive exchanges of information, this is no longer true. Here are just some ways to increase your business's presence on the Internet, which will in turn bring in more traffic and build your brand into one people trust and buy from.
Spread yourself about
Social media has become a huge destination for people from all areas of society. Many businesses know they need a social presence but when it comes time to execute a social media strategy the task can become extremely overwhelming.
The first step is figuring out which social networks you have the time and resources to commit to. Basically you should be wherever your potential customers are likely to be. If you're an Internet only business, it will be more difficult for you to leverage a location-based network like Foursquare, but if you market primarily to other businesses then it could be a good idea to establish a presence on LinkedIn.
It is also a good idea to maintain a presence on all of the most popular social sites like Twitter and Facebook – these social media sites are where your customers might go and look for a more organic view and honest opinions about your company.
Don't stagnate
We all know it's not enough to build your website and expect instant business success - by the same token, it's not enough to create a Facebook fan page and expect to become an overnight Facebook sensation. Remember though that out of date social network profiles can be more detrimental than not having a presence at all. It is possible that your social network profiles could rank higher than your website in the search engines, so it's crucial that they are implemented correctly.
Post regularly, and cultivate your presence into something more than a place to blast visitors with promotions of your products or services. Link to related content, industry blogs or provide selfless information as well as promotions to paint a picture of a company that genuinely cares about their customers so visitors come return and don't automatically filter out your posts as spam.
Communicate
In addition to supplying content that adds value to your social presence, you also need to participate in the ongoing social media conversation. A social media presence means that people can talk to you and they usually expect a response. If you communicate with people, keep it honest and avoid working every interaction into a plug for your company. You are building a brand, creating integrity for your company, not trying to make a one-off sale. Be thoughtful, provide insight, and ensure people are happy. This will go a long way in ensuring visitors keep coming back with a positive impression of your brand.
Be an expert
Another element of social media is influencing others with your ideas and concepts. If you have a business you should be an expert in your products at the least, and probably also the industry you are part of. Share your knowledge. Create articles, start a blog that has killer content that provides the information your potential customers are looking for, give your insights into your products/service that loosely lead back to your site and to your business. Be an expert that influences people to make decisions that build positive associations with your brand and create trust.
It's not easy and it won't happen overnight, but the sooner you start to implement these strategies, the sooner they will start working for your business.
---
Domain Names For Sale
We have some excellent domain names available now for sale - view and buy online >>>