Online marketing has given businesses large and small all over the world the ability to compete on a level playing field, but although online stores have the potential to reach more possible customers than you could ever imagine, converting them into sales is often overlooked in the constant push for a high Google position and a strong link campaign.

Too many online marketing campaigns focus on achieving high levels of traffic. But if that traffic doesn't produce a corresponding increase in sales, the return on your investment suffers.
Same Old, Same Old
The downside to the spread of online shopping is that your business is most likely competing with hundreds, if not thousands, of other businesses offering similar products. You sell gift baskets? There are plenty available. An online bookseller? You're probably lost in the crowd. Health food supplements? You could choke a elephant with the number of vitamin pills available.

So if you are most likely selling the same products, or similar, as many other websites out there, what makes you think people will choose to buy from you instead of your competition?
Stand Out From the Crowd
Most businesses tackle this problem with search engine optimisation (SEO). If you are listed higher in Google than your competition, the traffic will most probably flow to you first, giving you the best chance to close a sale. But focusing on SEO is only half of the problem.

Let's have a look at online buyer behaviour. Firstly, most online shoppers don't buy from the first website they visit. Online shopping has made the concept of shopping around as easy as a few mouse clicks, so most customers will check a handful of sites before deciding on a purchase. In fact, this means that your site may actually perform better if it sits at number 3 or 4 in the Google rankings. If a customer is looking at the third or fourth website and sees no real difference in the offer, rather than return to the first site to buy, they will most likely purchase from the site they are on.

So what are the factors that most likely convince a customer to click your "buy now" button?

Aegis' Group's Synovate recently did a survey for Guidance and came up with some surprising and not so surprising results. Asked to rank various factors, the survey group unsurprisingly selected price as the number one decider.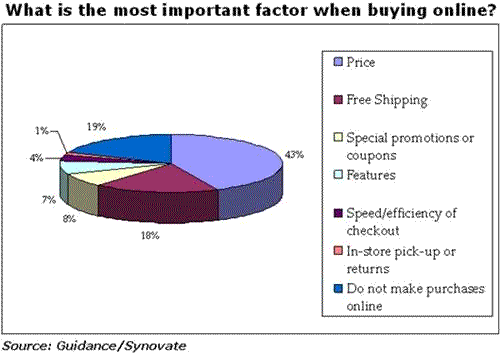 What becomes more interesting is when you consider the second most popular – free shipping.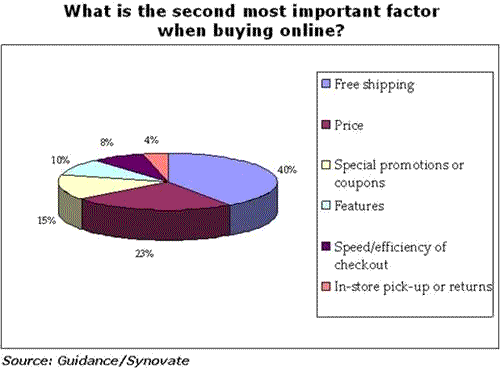 Between them, price and free shipping make up easily the majority of the chart, with promotions, coupons and checkout procedures only receiving a very small percentage of the vote.
Why You Shouldn't Focus Only on Price!
Of course, price and free shipping amount to pretty much the same thing for the customer. They want to buy the product for less than they can get it down the road and they don't want shipping costs to impact on this bargain. It also destroys the myth that customers are willing to pay shipping for the convenience of home shopping.

The truth is more likely that people are quite happy to shop at their local shopping centre if your online store can't beat the price, shipping included.

As always, the best marketers are those that understand what drives a customer to buy. By analysing this information and planning ahead, you can refine your marketing strategy in less traditional ways to gain that competitive advantage.